A gambrel shed, also known as a barn shed, combines the traditional shed design with generous overhead storage space. The gambrel roof has two roof slopes on each side of the ridge with a steeper slope on the lower part to provide extra headroom. A gambrel shed can accommodate more storage without increasing the size of the shed. The gambrel roof can accommodate up to 11 ½ feet of additional headroom—a considerable advantage over other types of sheds.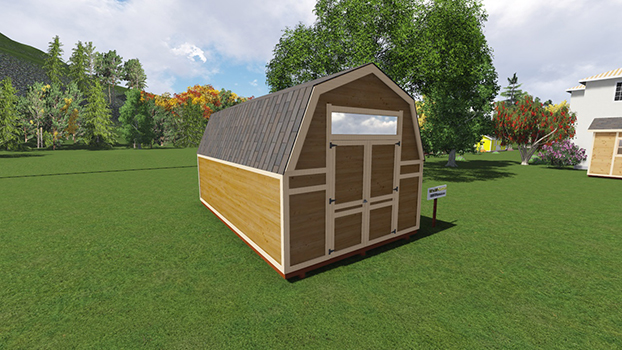 You can build your own gambrel shed after purchasing a plan from DIY-Plans.com. The plan will come with an Excel list of the materials you will need along with the corresponding measurements, a tool list, and a cut list. All you need to do is purchase the appropriate materials and start building.
Instructions
Building your shed will take time, but you will enjoy the satisfaction of constructing something from scratch. Building your gambrel shed involves the following steps:
Shed foundation – Your gambrel shed must be set on a foundation of concrete blocks or treated lumber. Solid concrete blocks will be advisable if you are building on a sloped site. Lay out and stake the four corners of your shed. Dig 6-inch deep holes at each corner, pour 4 inches of crushed rock into each hole, level and compact.
Building the floor – Cut 2×6 lumber, and lie the planks flush out on the outer edges of the blocks. Fit the offset corners together with 16d-galvanized nails and lay out the floor framing several inches from the outside edge of the band joist. Nail the joists between the band joists. Use ¾-inch plywood as floor and attach using 8d-galvanized nails.
Adding the walls – Build the four walls of the shed on the ground. Upon completion, put up the first wall by temporarily bracing it with lumber at an angle. Once the first wall is standing, putting up the remaining walls will be easier.
Building the roof structure – Building the gambrel roof is the most complicated part of this shed. Lay out the truss materials on level ground, with the joints overlapping. Mark the angles of the ridge. Make the necessary cuts. Then assemble the roof trusses using cut plywood for straps. Install the trussing starting from either end of the building. After installing the trusses, you can start installing the roof deck. Then, frame in the trusses.
Mounting the siding, windows, and doors – Choose the kind of siding, doors and windows that you want to install and put them in place.
Finishing the roof – You can cover the roof deck with a waterproof membrane followed by asphalt roofing paper and the shingles of your choice.
Your gambrel shed is now ready for use.