People love to decorate their homes for holiday parties, but if you are entertaining a large group, you may need more space. If you have a shed, why not use it? This holiday, consider converting your backyard shed into a functional holiday space for entertaining or storage.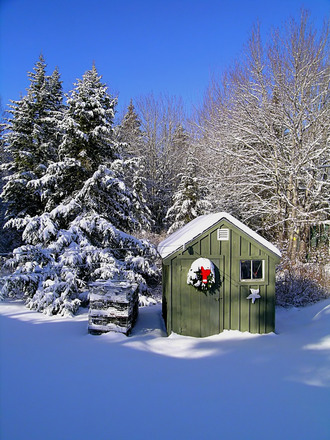 The Makeover
A heavily used old shed in the backyard could hardly qualify as a festive Christmas venue or Santa's workshop, but a little creativity and imagination can help transform it into useful space for the holiday.
The following steps can help with your backyard shed makeover:
Clear it out – Sheds can easily become cluttered and messy, but a little time and attention can help streamline your inventory, freeing up space for other uses. Often, lawn mowers, bikes, garden equipment, and other stored items can be cleaned up and shifted to one portion of the shed. Clear out cobwebs and dust. Hose down the walls and apply a coat of paint if necessary. Waterproof paint will not only look nice but can also provide an effective barrier from the elements for future months.
Decorate – Get the family involved in this part. Use tinsel, old strands of Christmas lights, homemade snowflakes suspended from the ceiling, spray-on snow for the windows, a lighted Christmas tree, and other traditional décor.
Add furniture – If you're using your shed for entertaining or for a comfortable hideaway, you will need some basic furniture. You can use folding or stackable chairs. For a festive touch, drape them with Christmas fabric or tie holiday ribbons around them.
Welcome Santa Claus – Christmas is never complete without Santa. Of course nothing matches a real Santa, but a stand-in such as an inflatable Santa can work in a pinch. Use a corner of the shed for an attractive vignette where people can take pictures with Santa.
Though we often think of sheds as being strictly functional, they can be an excellent repository for Christmas creativity. If you're cramped for space for holiday festivities, give your shed some tender loving care and make it a holiday haven.